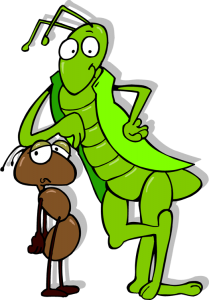 There is a great love we have for fresh vegetables from the garden.  I was standing at the sink washing off the squash and suddenly I noticed… Ants!
Little black ants were crawling along my window sill.  Oh good grief!  First I thought I may have brought them in on the vegetables but then realized they were coming in and out by way of a little crack between the woodwork and the window frame.  I usually always spray around my windows and doors but really don't like to in my kitchen because of the poisons.
All types of ants can get in your house and be out in your yard which can become quite a nuisance.  I've talked before about spot treating and broadcasting in the yard but for your garden and in your kitchen, let's look at another way to control them which doesn't expose your food preparation area and food items to harsh chemicals.
After doing some research, I decided the best approach for these areas would be ant traps.
Here is an interesting story: Grant Laboratories was founded in 1930 with the simple goal of developing a superior method of ant control.  The Grant's Kills Ants® bait formula was the result of that research.
I tested both the liquid ant traps and the ant stakes.  I put the ant stakes near my urban garden where I saw ants crawling around.  After 2 days I saw no more ants.
To get rid of the ants I saw along the kitchen window sill, I placed the liquid ant trap there and saw the ants start going to it and then leaving. After a couple of days there were no more ants.
You see there are scouts that literally "scout" out areas for the ants to get food.  Once these main scouts get the bait, go back to the nest and feed it to the queen and worker ants, they all die.  No more ant scouts to show the way to your home!
Now you know a very clean and mess free way to control any of your ant problems without the worry of harsh chemicals by using Grant's Kills Ants® ant bait traps