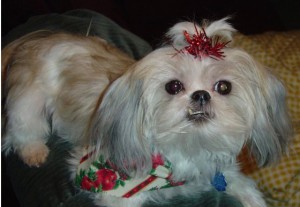 It is always fun to reminisce about the different dogs & cats I have had in my life.  When I was young, my family took in a beagle that was found near a country club & we later adopted a cocker spaniel from neighbors who were moving away and couldn't take him with them.
As a young adult I chose schnauzer and sheltie puppies. A lab/retriever mix became a Christmas present for my children. Then there was a procession of 5 shih tzu pups (not at one time!) with the last one being our daughter's little Meisha who did not like living in the big city.  There have been 15 cats in a variety of black & white, tabby and blue Russian.
There are those of you who have had more pets in your lives or possibly less, but the love and care of our pets are pretty consistent.  We want to make sure they have their shots and heartworm pills.  The right food is high on our list for creating a healthy body & coat for our pets.  Who doesn't love to get the endless supply of toys along with the crate or bed so they can be comfortable!
Those are the easier and fun things to do for our pets but then we have the more difficult part of pet ownership to deal with.  I'm specifically speaking about dealing with the "accidents" our pets leave on the floor!
Whether the pet is in the process of being potty trained, has an "accident" due to some stress, an older pet that has trouble controlling themselves, or just some odd reason a well behaved pet starts acting out, we all struggle with the cleanup and getting the odor out of the carpet.  Every time I saw a new product for just this purpose, I quickly purchased it and just as quickly was disappointed in the inability to get the smell out.
Through the years I have struggled with this issue and at one time just wanted to have wood floors throughout the house.  But my husband only wanted carpet in the bedroom.  Of course, that is where our 3 small dogs and 1 cat like to hang out with us, so if there is a problem, it generally happens there.
You're in trouble?
When one of my vendors was talking to me about a new product, all she said was "You're in trouble".  I gave her a quizzical look because I didn't think I had done anything for her to say that.  She pulled out a purple spray bottle and that is exactly what it said on it — Ur' N Trouble!
She went on to tell me about this great new product for cleaning up "accidents" by our pets and I gave her that look of doubt.  I did not want to try a new product because I didn't have much hope in it actually working.  She assured me this was a different product. I said "sure, why not".
I am so glad I did!  Honestly, it smells good itself and it works to get the smell of urine, throw up and "poop" out of the carpet.  I simply get some paper towels and soak up all that I can, spray with Ur N Trouble and let sit for 5 minutes.  Then I pat the spot with the paper towels again & that only smells like Ur' N Trouble's good smell.  Finally, a product that does what it says!
You know there is nothing more embarrassing than to have friends over to your house and the smell that meets them at the door is 'ode d'urine'.  No matter how many candles you have burning or air fresheners you have been spraying, there is still that underlying odor that just won't go away.
Leave this embarrassment in your past and go confidently into the future with Ur' N Trouble.  Go get that new puppy or kitten you have been putting off adopting or buying; don't dread the strife that causes stress in your pet's life that makes them lose control;  concentrate on the positive attributes of your pet because you now know you have help in keeping your home odor and stain free.