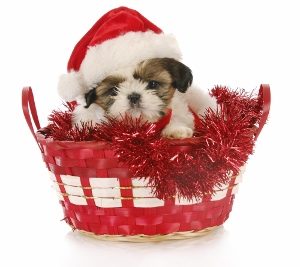 Here are some great puppy training tips for that new puppy you got for Christmas. They bring a bundle of energy and being prepared to keep them entertained is essential.  Chew toys, balls and bungee type toys are great to use up that energy and help with teething issues.  Your puppy is no different than any other puppy regardless of their breed.  They want to chew, pull and chase toys while they are awake.  They will have favorite toys that they will always keep close by them.
Potty Training
Next important to remember is they have little bladders and have no idea where they are suppose to go to the bathroom except, instinctively, not near where they sleep.  Patience and perseverance is key to keep you sane and to help your puppy understand what you want him/her to do.
Puppy pad training can help you teach your pup where to pee or poop.  When you know it is time for them to go to the bathroom, anywhere from 10 minutes to an hour from the last time, place them on the pad.  After they relieve themselves, praise them and give them a treat. Don't rub their nose in it if they miss as that only creates fear.  After they get it down in using the pads, move the pad closer and closer to the door going outside.  Dogs are really smart and will eventually learn that when it is time for peeing or pooping, they will go to the door to let you know they are ready.
Eating & Sleeping
There are several other factors to keep in mind to make these beginning weeks with the newest member of your family a happy experience.  A great feeding bowl and a comfy bed will make dining and sleeping so much easier.  As your puppy gets older, you can consider whistle training for any habits you want or don't want them to do.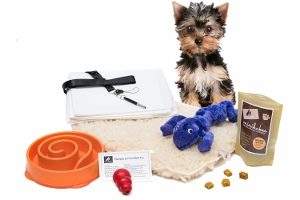 Mack and Mercie™ has put together a great new puppy training bundle that will get you started.  It includes:
Kong dog toy
Recipe card with filler treat ideas for the Kong toy
Zanies squeaker toy
The puppy pads included will get your little one started right away
Organic cheddar trainers are perfect for training
The slo-bowl will help your puppy learn to eat slowly and have fun at the same time
Snuggle down on the Sherpa dog mat to sleep
The whistle, lanyard and tip guide will be useful when the time is right for whistle training.
You can check it out here.   There are so many items that you will want to give and use for your fur baby but believe me, there is plenty of time for those!