How many times do you look outside at your living spaces and think, "I just need a little pop of color, but what?"  Are you tired of wishing for a little "makeover" to get you excited about your outdoor landscape decor?  You want something easy that doesn't require a lot of work or special skills. There are so many different options it can be overwhelming to decide just the right piece for your place or home.
Let's break it down:
What colors do you like? Reds, blues, greens, yellows?
What type of items do you like in nature, such as butterflies, birds, flowers, pumpkins, etc.; or objects like lanterns, sleds, buckets, Patriotic flags?
Do you like to change out your outdoor landscape?
 Is the decor for neighbors to see or for your own private spot?
Are you attracted to changing seasonal designs?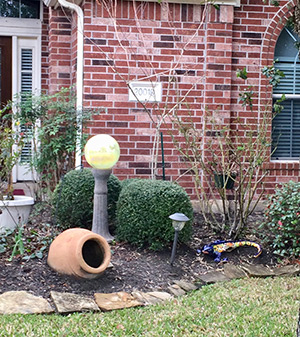 One color that my customers want to add to their gardens is blue.  That is a color that is not available in many plants so I would recommend adding decorative accent pieces to their gardens or outdoor living spaces. One way is with a beautiful garden gazing globe or a colorful pottery lizard like in the picture to the left.
You can strategically place them among your flowers or ground covers for that pop of color.
How about adding a mini garden flag to that garden area, a pot on your porch or the walkway leading to your front door like the picture to the right?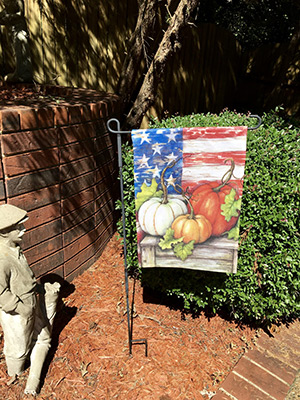 The fun advantage to adding a garden flag is the ability to change it out to fit the season, holiday or just because you can!  Now there are many different types of garden flags, and I have had a few different brands, but I always make sure of a couple details so I know it will last.  The flag fabric with a high denier count tends to be sturdy and durable.  Also, being fade and mildew resistant is a must.  I mean, who wants a flag that starts to fade the first year it is used outdoors.
Here are different Garden Flag Bundles with beautiful butterflies; Patriotic flags with pumpkins or sunflowers; Winter scenes with birds, snow or sled; and different bundles of flowers for the added multi colors.  There are 4 flags in each bundle for all the seasons which would make a great gift on Mother's Day, birthdays, anniversaries and all holidays for anyone's garden.  The outdoor landscape use of these flags is endless and the quality and beauty are perfect.