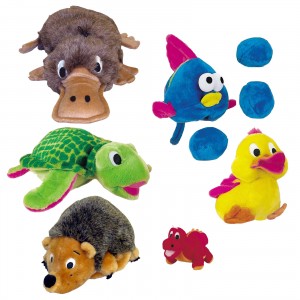 No matter what the temperatures are outside, our dogs and cats love when we take the time to play with them.  Of course, for me, when it is really hot I don't want to exert too much energy so I like to get toys I can throw for our dogs to bring back and toys that get our cat's curiosity so they want to play.
My dog's favorite toys are the Kyjen Egg Babies plush toy that comes in several different animal styles such as alligator, duck, dinosaur, platypus, & sea turtle to name a few.
You see they have 3 "eggs" inside of them which are plush egg looking toys with a squeaker plus the Egg Babies come with 2 additional eggs for replacements.  Somehow all the dogs know that there are "eggs" inside of the bigger toy and they love to get them out.  We'll stuff the "eggs" back inside the toy which starts the process all over again.
A really quirky toy for our cats is the Savvy Tabby Skittery Spiders.  They are small toys about 2 ½" long with a pull cord on the end of them.  You just pull that cord and the spiders vibrate and move which, of course with a cat, definitely gets their attention.  They are just funny looking little toys with these sparkly string-like legs that attract the cat's attention, also.  You will be able to sit there and pull the cord time after time while the cat tries to figure it out.
In case you really don't want to exert much energy, you just can't go wrong with the Laser Exercise Beam for dogs & cats.  This toy has a red beam and an LED white light that can be used as a flashlight plus it is attached to a key chain so you can keep it handy at all times. There is a hilarious video of my store manager playing the laser game with his bulldog. You can see the laser beam video on the store's website.
You push the button down and a red dot appears on whatever object you are pointing toward and then the fun begins.  Our cat, Tommy, and my employee's dog, Ellie, go nuts trying to catch the red dot.  Your pet will run and run and jump up and down to catch it and you can be comfortable in your chair the whole time if you want!
Now you have some great toys to purchase for your dogs & cats which are fun not only for your pet but also for you!