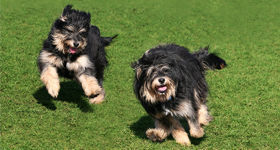 A beautiful lawn is something I really enjoy.  There is a process involved with that, believe you me, with the weed control, fertilizing and watering.  It's worth it to me to be outside and enjoy the green grass while I play with our dogs.  Now here is the dilemma…dogs have to go to the bathroom in the grass.
We love our dogs and we love our beautiful lawn.  What do you do with the effects on the pretty green grass when your dogs do their "business"?  Actually there are a few things that work well to keep on loving your pets and having pretty green grass.
Let's stay "natural" and clean with bio degradable dog bags to pick up any mess that your dogs leave.  You get to keep a clean lawn, you continue to help the landfills with the bio degradable bag and there are no spots in the lawn from the residue.  Check this for being pro-active for our environment and keeping your grass looking great!
You may ask, however, what about other neighbors who aren't quite as conscientious as you are and your yard becomes the toilet of the neighborhood dogs?  The damage has been done to the grass before you realize it and there is a bare spot.  A really great quick fix is an all in one dog spot repair kit for either sun or shady areas.  You can just shake it out and water it in.
The Pennington Seed All-In-One Dog Spot Repair Kit really does work because the seed is coated with a protection against fungus and disease along with having improved water penetration. Now, you can check this as a problem solved!
The urine stains on the grass are another issue.  The best I have found is a dog treat that is specially formulated for lawn protection called Healthy Baker Lawn Protection Dog Treats.  They are natural treats with added vitamins and dl-methionine and are oven baked.  No soy, sugar or artificial flavors & colors are added.  Having one dog with a lot of allergies, I really look for this type of product for her.
I always believe you can accomplish all that you want with your pets & your home with just a little added effort.