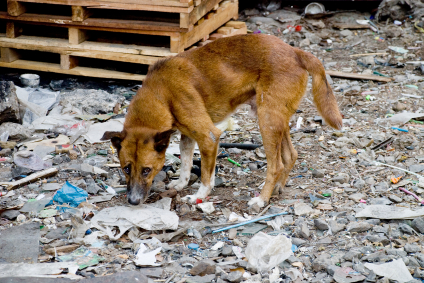 A favorite hobby of mine is flower gardening.  I love the spring when it is time for the perennials to start putting out new growth and adding annual bedding plants for that "pop" of color throughout the flower beds.
Do you have a special container that you love to fill up with fresh plants in the spring?  Do you also have dogs or cats who love those same areas to dig in or "do their business"?
Whether the dogs or cats are owned by you or your neighbors, there is nothing more frustrating than to see your hard work destroyed by these animals.  You may not have to worry about your landscaping but get annoyed by the animals using your garbage cans or heaven forbid the tires of your freshly washed car as their bathroom!
It is amazing how many products are out on the market today stating that they are the best Dog & Cat Repellent.  You can Google that and in .29 seconds get 161,000 results!
You can learn how to make homemade dog & cat repellent, or use products that contain several peppers, or products with naphthalene.  I have done just that with brief to no results…until now!
"He Licked It One Time and Hasn't Been Back Since"
Liquid Fence has a Dog & Cat Repellent that is made with natural plant oils so it is biodegradable and can be safely used around your family and on your plants.  It is also cruelty-free, so it won't harm your pets or other animals.
This product does have a smell when you spray it, but after it dries you will not be able to smell it but the animals will be able to smell it.  The effectiveness of Liquid Fence Dog & Cat Repellent will last a week or more and will continue to act as a training deterrent for pets and strays as long as it is present.
Initially, to train and break a pattern of habitual behavior, Liquid Fence Dog & Cat Repellent may need to be applied more frequently. As the animal's behavior is changed, the application frequency can be reduced.
Kim, one of my customers from Arkadelphia, AR said:  "I wasn't sure about purchasing this product because so many of them have not worked.  We want to have a vegetable garden in our backyard but our dog keeps getting in it.  I sprayed this and he licked it one time and hasn't been back since!!!!"
Enjoy your home and the surrounding areas without being distressed by nature's call on dogs and cats! Go now and purchase the Liquid Fence Company Dog & Cat Repellent so you will have your training aid on hand.