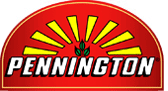 Tall Fescue Grass Seed by Pennington does not mean it is tall grass but that it stands upright and the Pennington Smart Seed will change the way you think about your grass!
Pennington's SMART SEED produces healthier, thicker grass that…
* Requires up to 30% LESS WATER every year
* Maximizes fertilizer performance
* Grows a Denser, Deeper root system than grass grown without using Pennington's Smart Seed
What a great advertisement, right?  What is great is that it is true!  It is my goal to help people find the right product for their needs and when it is an "easier to use" product, it is just that much better for them.  Now you just need the facts about Tall Fescue Grass Seed to determine if that is the right grass seed for you and when the best time to plant would be.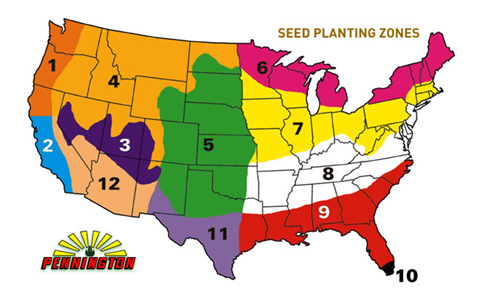 Pennington's Seed Planting Zones
Tall Fescue Grass Seed maintains a deep green color throughout the growing season.  It grows into a beautiful fine textured lawn.  This blend of Fescue Grass Seed contains improved heat, drought and disease resistant varieties.
Smart Seed™ with MYCO Advantage™ produces a healthier, thicker lawn that grows a deeper, denser root system, requiring up to 30% LESS WATER and maximizes fertilizer performance.
The planting zones for this type of grass seed are 1-8 on the above zone chart and upper sections of zones 9 & 12.  This grass seed needs 4-8 hours of sun to maintain a good stand.  This Tall Fescue Grass seed contains lower growing blend which requires less mowing than common Fescues.
This cool season, aggressive, perennial bunchgrass develops a uniform sod as it matures.  One of the Tall Fescue Grass blends best features is that it adapts to a wide range of soils, including poorly drained areas.  It has good traffic tolerance for those of you who have children and pets.
You now know more about this type of grass seed to determine if it is the best for your lawn's environment.  Do yourself a favor and go buy a bag of Tall Fescue Grass seed now so you will be ready to plant when the time is right!