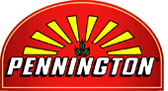 Pennington's Smart Seed is one of the best grass seed products you can find on the market that explains how to plant the grass seed and uses MYCO Advantage™technology that results in more success. I have sold several types of grass seed and am more pleased with this product than any other.
What means the most to me when picking the right grass seed? The ease in planting, the quality of the seed for germination and grass seed developed to resist diseases.
4 Easy Steps to Planting Seed
1. Prepare The Soil
Bare Spots & New Lawns
Remove all debris from planting area
Till or rake to loose top 2″ to 3″ of soil
Rake smooth to create a flat, level planting area
Overseeding
Mow the lawn as short as possible & remove clippings
Rake thoroughly removing thatch (dead grass) and debris to expose the soil
Aerate lawn if possible to allow better air and water penetration into the soil
2. Fertilize Planting Area
Apply a starter fertilizer
Lime may need to be added in some areas to ensure proper soil pH levels
3. Plant The Seed
Using a drop-type, rotary or hand held spreader, apply the seed evenly to avoid skips, overlapping & streaking
Gently rake, working seed into the soil about 1/4″ (using a drag chain would work also)
4. Water Seeded Area
Water daily to keep soil moist
Do not allow the top 1/2″ of the soil to become dry until seedlings have completely emerged
Once grass becomes established, reduce watering to 1/2″ twice a week
You now have the instructions for how easy it is to plant grass seed or overseed your lawn.  Let's look next at how to know if you have  high quality grass seeds.