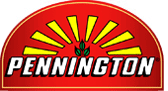 We have looked at the best way to plant grass seed and how to know if you have high quality grass seed.  Equally as important is knowing how to pick the right type of grass seed you need to plant for the conditions of your lawn; i.e., shady, sunny or wet and the particular area of the country.
Pennington Smart Seed grass seed is available in several varieties.  Let's look at the different grass seeds and the conditions that will produce that lush lawn you are wanting.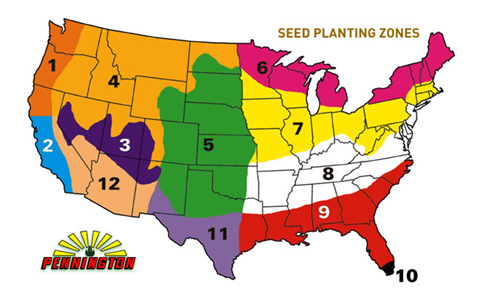 Pennington's Seed Planting Zones
This produces one of the highest quality, most desirable looking lawns.  It is an aggressive, self-spreading grass which reproduces by seed and spreads by underground stolons.  It is naturally more disease and insect resistant than other grass varieties.  It contains both Pennington's exclusive MYCO Advantage & Penkote technology.  This is a terrific variety but let's see if it is suited for your zone and lawn environment.
The planting zones are all of 1, 3, 4, 6, 7 and upper parts of 5 and 8.  Look at the map above to determine if your home falls in any of those zones.  Now it also requires full sun to partial shade (at least 6-8 hours of daily sun). It has excellent traffic tolerance so if you have children, for instance,  and the first 2 requirements are met, this is the grass seed for your lawn.
The recommended planting time for this grass is Early Spring or Early Fall.  For new lawns you will need 3 pounds per 1,000 square feet and for over-seeding you will need 1 1/2 pounds per 1,000 square feet.  This is a fine textured, dark green grass that has a good drought tolerance and very good disease resistance.  This knowledge will help you pick the right type of grass seed.
This is the first of 8 varieties that are excellent choices for the gorgeous and easy to care for lawn you have been desiring.  If you live in one of the planting zones for Kentucky Bluegrass, and have the 6-8 hours of light required, don't delay in getting this type of grass seed.  Your neighbors will wonder how you had the time to grow such an outstanding lawn and you will know it was because you knew how to pick the right grass seed.
The next grass seed to find out if it is the right one for you will be Tall Fescue Grass Seed.