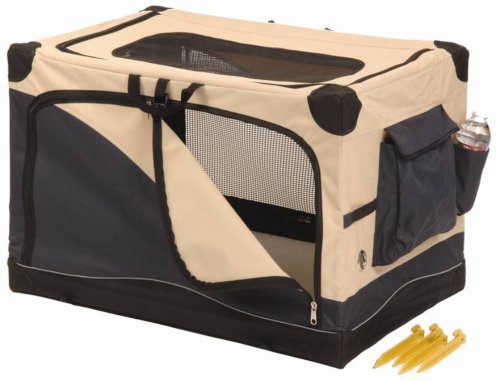 UPDATE: We now recommend the Precision Pet Deluxe Soft Sided Dog Crate.
In regard to traveling with pets, this collapsible dog crate helps your pet to feel safe and secure in their new surroundings.  Whether you go to your in-laws or camping, this crate will become your dog's home away from home.  When you train a new puppy to a dog cage or crate as to where they sleep, it becomes like a safe haven or den where they feel secure.
This crate comes in Pink Camo or Green Camo.  There are 4 pockets, 2 on each side.  On 3 sides the window coverings roll up over mesh windows so your dog can see out.  The mesh door will roll up and is secured with velcro.  This comes with a matching carrying case that has 2 pockets and a handy shoulder strape.  There are 4 stakes to stake the corners of the crate if you are outside.  There is a faux sheep skin pad inside that is washable.   The outside material is like a tent and can be sponge cleaned.
Dimensions: (Pink Camo) measures  24"L x 18"W x 21"H
Medium: (Pink Camo & Green Camo) measures 31"L x 21"W x 26"H
Large: (Green Camo)  measures  38"L x 26"W x 29"H    
X-Large: (Green Camo) measures 42"L x 29"W x 34"H